HURT SO BAD
In his published diaries, Richard Burton wrote of Peter O'Toole: "He looked like a beautiful, emaciated secretary bird...his voice had a crack like a whip...most important of all you couldn't take your eyes off him...Acting is usually regarded as a craft and I claim it to be nothing more except in the hands of a few men and women who, once or twice in a lifetime, elevate it into something odd and mystical and deeply disturbing. I believe Peter to have this strange quality." Filming Becket at the time, playing the title role opposite O'Toole's Henry II, Burton's may be the most effectively simple assessment of the appeal of his co-star; it may also be as succinct an explanation as any for the unending fascination historians, poets and dramatists have with the tormented relationship between Thomas and Henry. Perhaps one of the reasons the histories and the dramas are fundamentally unsatisfying is why Jean Anouilh's 1959 French play Becket isn't—the playwright creates a coup de théâtre that great showmen can swashbuckle in and still keep their self-respect. (So enamoured of Anouilh's conceit that Laurence Olivier played both parts during a Broadway run.) Adapting Anouilh's play for the 1964 movie, Edward Anhalt jacks up Becket as a crisis of backstabbing ecclesiasticism, and director Peter Glenville solemnizes it. What makes the movie pleasurable is that it's got one of the grand pairings of lushes who booze their way through nearly unmentioned possibilities. Burton and O'Toole started out sober for maybe the first two or three weeks of production but afterwards they imbibed so regularly that many wonder how the movie ever got made. Can you see any evidence of their soused condition? Generally, beyond the occasional bloated faces, no. But we can feel something's a little off, like a closet drunk pretending he hasn't been drinking. Our suspicions aren't necessarily derived out of the knowledge that the performers were notorious dipsomaniacs, or that together they fed each other's habits. They largely derive out of the edginess of O'Toole's wracked emotionalism as Henry and Burton's bridled Becket as a "spiritual gate-crasher"; they're acting like intimate chums who can't embrace what's going on between them. Anouilh's play suggests a relationship more convoluted than what we know from the history books, and Anhalt's adaptation tries to go a few steps deeper into the agonizing bond while at the same time masking overt implications. Watching O'Toole's Henry reel from rebuffs, aching out lines to Becket like "You're wrong not to love me," observing Burton's archbishop seek refuge in the cloistered world of the Church wherein he admits that Henry's "never forgiven me for preferring God to him," we begin to believe that the actors have to be hammered in order to play what their characters can't accept. Without O'Toole's fancy masochistic emoting and Burton balancing with rare downplaying, the guessing game of Becket would be a stone-cold experience. It has the requisite look and reverent sound of bone-chilling cathedral; the interiors are spotless, sparse, dampy and Laurence Rosenthal's elevated roadshow score often estranges us from the core of the story. Glenville sticks to rigid formula with the supporting cast: John Gielgud (representing the effete French), Donald Wolfit, Martita Hunt, and Paulo Stoppa become caricatures of period piece, as do the Vatican's Cardinals as fatisfied gossips, and the king's henchmen and the gloating Saxon monks as floggers too lurky and eager. If historic fact gets typically sidetracked—one of many examples, Becket was 15 years older than the king—Pamela Brown's mousy, repugnant portrayal of Henry's wife Eleanor is insulting in its tone of inaccuracy. (Even during Henry's "Becket" days, and despite being in love with him, she was embroidering plots against his rule.) Most viewers, however, won't object too much and that's okay: Becket, a companion piece to The Lion in Winter, gives us the indulgence of two imbibers having the greatest time playing at brinkmanship. National Board of Review winner for best film; nominated for 12 Academy Awards, including Best Film, Actor (both leads), Director, Supporting Actor (Gielgud), Color Cinematography, Costume, Art Direction-Set Decoration, Film Editing, Sound, Music (substantially original), winning best adapted screenplay for Anhalt. Filmed in Panavision.
ROLL OVER IMAGE / POSTER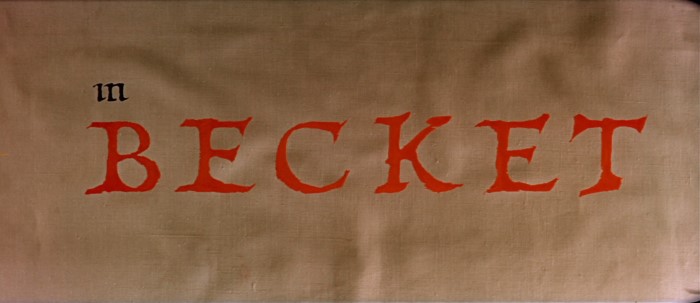 Text COPYRIGHT © 2000 RALPH BENNER All Rights Reserved.