OH HOLY MARY
According to most critics, Katharine Hepburn reached the height of her career as drug addicted Mary in Sidney Lumetís 1962 version of Eugene OíNeillís Long Dayís Journey into Night. True that she isnít at all bad, but, except for the characterís affliction, thereís nothing new in the performance: she zeroes in on her inaccessibility, that point that almost always comes in her work when you canít see anything past the waves of the idiosyncratic, the affectations. You donít feel anything, either, but this isnít altogether her fault: OíNeill wrote a brooding giant of an autobiographical bore thatís intolerably long and talky, though thatís central to the author. (Excepting his experimental works, he had little capacity for drama as action, believing audiences have the patience to sit through hours of interminable psychological exculpations.) But Lumet was luckyófor a mere $25,000 he got Hepburn as a tics & tricks showstopping chatterbox. And stop the show she does: at her most controlled, sheís so tightly wound that, even when her Mary goes on and on as remedy for sleeplessness, youíre mesmerized by how all the haughty Hepburn mannerisms and voice effects have congealed as artifact; the same old trickery, the same old anger, gazes, quivers, wide smiles, the quick, hope-you-didnít-catch-them glances at the camera, the incessant fiddling with her hair have become mechanism extraordinare. It would take Meryl Streep to upgrade via foreign accents the sacrosanct artifice. As directed by Lumet, the ďmovieĒ is still irremediably theatreóitís an unrelenting downer during which you suffer recurring fits of the drowsies, begin to feel a glaze of apathy covering your tolerances, the atmosphere strangling with suffocating monotony. Hepburn, Sir Ralph Richardson, Jason Robards, Jr. and Dean Stockwell were honored by the Cannes jury with a special prize for ensemble acting. The New York run started out as a special advanced seat policy (roll over ad at left), but after quickly exhausting all the masochists, it went ďpopular prices.Ē The frequent use of the then-rarely-heard ďGod damnĒ didnít much bother the Legion of Decency or most censors in major cities because the prestige of OíNeillís name was enough to keep the mobs away. Whatever you call this, it has fierce partisans, including the director who fiercely defends it in his informative Making Movies. Photographed by Boris Kaufman; edited by Ralph Rosenblum; production design by Richard Sylbert. Origianl running time 174 mins.
ROLL OVER IMAGE & AD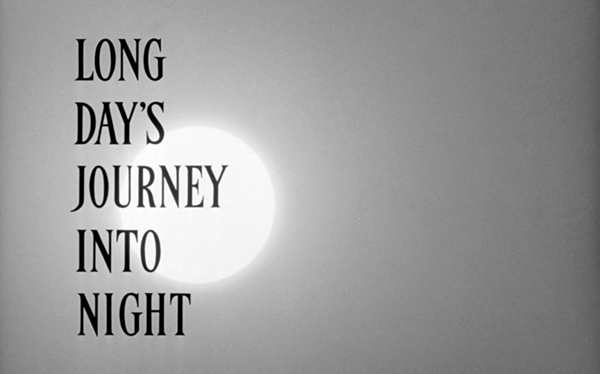 Text COPYRIGHT © 2000 RALPH BENNER All Rights Reserved.