HEART OF TRUNCATION
Richard Brooks' version of Joseph Conrad's Lord Jim was produced as a roadshow, and with Peter O'Toole as the title character, James Mason, Jack Hawkins, Paul Lukas in prestige support, with cinematographer Freddie Young and camera operator Ernest Day using Super Panavision, Bronislau Kaper writing the score and Phyllis Dalton designing the costumes, there was hope Columbia would duplicate the success it had with Lawrence of Arabia. That is, spectacles could be literate as well as adventurous and be big box office. Brooks' many-years dream died very early into its hard ticket run when audiences found Lord Jim to be neither lettered nor very rousing. The reviews weren't favorable, to say the least; perhaps the worst was written by a student back in 1965 for a school paper. "Unpardonable Bomb" screamed the headline. The following doozies are included: "one massive surplus of pitiful celluloid," "kicks its own bucket due to numerous trite sequences and patterns," "Brooks' journey into depth stops when we can't plainly see a performer in the background in one of O'Toole's many boring scenes," "the cluttersome slobs Mason, Hawkins, Lukas, Curt Jurgens and Eli Wallach are assuming to portray undoubtedly serve genuine purposes in Conrad's novel but they take precious footage away from Daliah Lavi (as The Girl), the most beautiful creature you ever laid your eyes upon." If one lives and dies by what he writes, even at that tender age, then I'm among the walking dead. Moi's howling hyperbole aside, Lavi really was gorgeous back then, before she got Elizabeth Taylorized by the drooling cosmeticians. Her exotic beauty belied her Jewish Russian-German origins; her skin texture and bone structure were nearly flawless and defied any ethnicity. (A Google image search confirms that she remains incredibly lovely.) On the basis of a recent ReViewing, the movie remains mediocre; the moral-loaded tale of Jim's quest for a second chance at redemption after his cowardice at sea is perfunctorily told, minus the Conradian psychology. (It isn't quite as empty as The Wreck of the Mary Deare.) Beleaguered by production problems, to which he lost his energy, Brooks can't coalesce the kinds of downs Jim's tormented by, thus O'Toole seems equally lost to supply the heart of anguish. Can't think of a single movie Brooks ever directed from a famous play, short story or novel, including Cat on a Hot Tin Roof, Elmer Gantry and In Cold Blood, that didn't feel short-changed. Brooks is a prime example of the heart of truncation.
ROLL OVER IMAGE & POSTER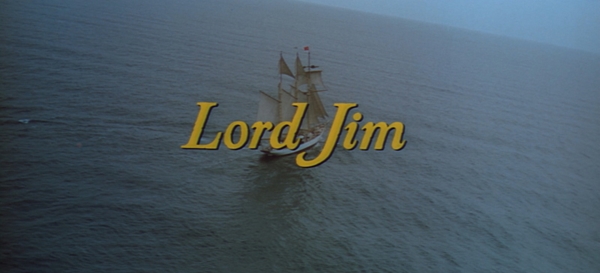 Text COPYRIGHT © 2001 RALPH BENNER All Rights Reserved.