GETTING THRU THE NIGHT
John Huston's version of The Night of the Iguana by Tennessee Williams is for those who like the author eviscerated of his lyrical downer trumpery. On stage he can get thick with horrors, what with all the brutal rapes, lobotomies, castrations, cannibalism, booze & drugs, incest, homosexuality, mendacities, self-revelations as pathos; the confessional speechifying is akin to slogging swordless through Medusa's head. As theatre, we're tolerant of it because his signature—the feminine soul of American playwrights—is intensely showcased: we're made heady by the "beauty" of his poisoned pain. But the poetic delirium isn't always successfully transferred to screen as the camera can quickly eat away the artifice; the planted metaphors turn in on themselves, the grandest of his themes—that cruelty be wishfully overcome by compassion in short supply—often becomes dreary self-pity. The Night of the Iguana, arguably the last of his best plays, reeks of it.
Having started out as a short story based on a Williams encounter with tourists at the Hotel Costa Verde in Acapulco in the summer of 1940, the only relationship it has with the play and movie are the title, name of the hotel, the spinster Miss Jelkes, rum cocos and a "tied-up" iguana. (The play's setting is typical of the writer's self-amused cleverness—Puerto Barrio.) The movie names and uses Puerto Vallarta and the famed Mismaloya, circa nineteen sixtysomething. Both the play and the movie have three central characters: Shannon, a defrocked minister trying desperately to hold down the lowest of tourist-guide positions; Maxine, the proprietress of the shabby tourist trap; Hannah, the spinster wandering the world with her dying poet-grandfather. The play, loaded with repressed sexuality and miserably lonely people getting caught up in "fantastic" situations, is really about malevolence deriving its sustenance from God's poor creatures being put into little cubicles they don't want to fit into. As is the Williams wont, it's dark and depressing.
The movie, however, is decidedly more alive and comic, thanks to what may be due to the assembled talents taking their first crack at the author's "theatre." (In defiance of the tropical setting, this remains theatre.) Ava Gardner's Maxine is an earthy appraiser quickly and accurately sizing up her unwanted patrons as spooks, hustlers, bull dykes. She never apologies for her outspokenness—or her needs, in that she keeps handy two shirtless beach boys. She's in misery anyway: she wants Richard Burton's Shannon, who's on the run from a sex scandal at his former congregation, wallowing in drunkenness to relieve his separation from the church and his taste for fresh flesh that might land him in more trouble for statutory rape. Making Maxine's discontent more pronounced is Deborah Kerr's refined vagabond Hannah Jelkes having caught Shannon's attention. Contrary to the wishes of Williams, Huston and co-adapter Anthony Veiller resolve with uplift the fates of these three. Huston zeroed in on Maxine, that she isn't the devourer Williams intended, and he dared to the author: "You don't want a woman to have a place in the love life of a man. That's why you chose to (uglify) Maxine. You've been unjust to your own creation." Huston's right, but what he doesn't mention is that in the re-writes of the play before it opened, Williams darkened Maxine to accommodate Bette Davis.
Stretching the neck to pull from view any double chins, bosomy in poncho, smiling and laughing at her guests' distresses, Gardner gives a performance suggesting assurance, a sense of ease and relaxation. She's what Kelly in Mogambo might have become had she transplanted south of the border and not jumped off the boat to shack up with Gable in his African, snake-infested abode. It's seasoned fakery: Gardner was in fact terribly insecure as performer and you can see this in an account of her life on "Biography": footage shows Huston's faith in her seems a dismissal of her anxieties and ever the fox he knew that to feed her self-doubts would be ruinous. (Google Image has plenty of pictures in which she seems happy on set, which is a rarity.) Despite her unfounded fears of inadequacy, she's the only real thing in the picture. She brings to Williams' blueprint for Maxine—that she be "affable and rapaciously lusty"—a raw, sexy vitality that Davis could only parody and, when she bombed out on Broadway, replacement Shelley Winters would whine. Burton's been allowed to blow the fuse too often; his Church sequence and several more to closely follow beg for reduced energy. By climax, his handsome irascibility becomes subdued—a relief for all of us. While doing the customary prim & proper lady bit, Kerr has the more difficult role— with its built-in embarrassments—and she pulls it off quite redeemably. Grayson Hall is potently a prude in the smothered sexuality of Miss Fellowes. She accentuates the invective in the word "seducer" and she'll forever live in the annals of warnings for the line, "Don't make me take steps."
Huston knew about Vallarta before filming yet it wasn't until he met a Mexican architect who told him about nearby Mismaloya that he considered using the locales. If the movie has one regrettable feature, it's the decision to have used black and white instead of color. Huston believed color would permit the environs to overshadow the story; consequently, he and photographer Gabriel Figueroa work much too hard to avoid the breathtaking. In his late-in life An Open Book, he concedes this was a mistake: the movie needs color to lift the setting out of its visual doldrums. There are a few glimpses of scenic splendours, gone before you get a pleasing eyeful, and worse, in the closing shot, Huston has crammed Shannon and Maxine in her bedroom from which viewers get the stingiest view of the Pacific. Had the Mexican Figueroa been more demanding of Huston to appreciate the topographical pleasures, that scene would have been shot on the verandah, with a full panorama of the Bay of Banderas. Had this been so, we wouldn't have felt spent by the taxing commiseration; instead, we'd have envied Shannon's good fortune. Especially the sunsets.
ROLL OVER FOR RARE COLOR IMAGES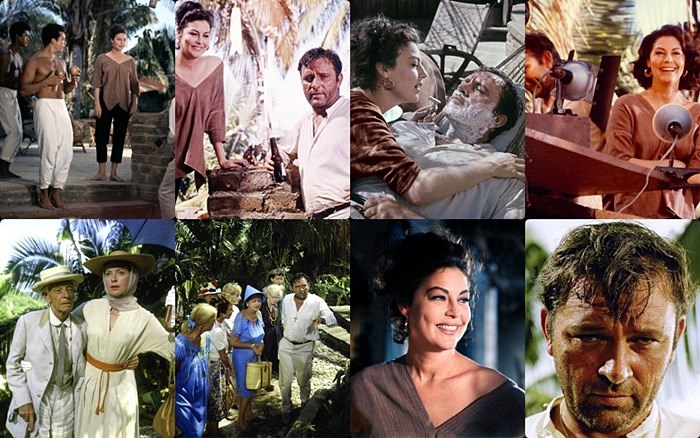 Text COPYRIGHT © 1999 RALPH BENNER (Revised 9/2015) All Rights Reserved.