GOTTA GET US SOME SMELLS!
As the proverbial chip off the old block, Michael Todd Jr. aimed for his father's showmanship with Scent of Mystery, the first and only reserved-seater that attempted to give audiences the sense of smell to the movie-going experience via a mechanical gimmick called Smell-o-Vision. The $30,000 per theatre system had as chief components various vials of scents, set within a rotating drum, that were released when responding to the cues recorded onto an extra track. The smells required for specific scenes were puffed by compressed air through narrow piping behind seats. According to the brochure given audiences (picture below), some 30 scents were used, including ocean ozone, pipe tobacco, garlic, oil paint, wood and wood shavings, boot polish, wine, roses, peach blossoms, baking bread, bananas, perfume, sugar cane, clover, brandy, peppermint lavender, carnation, train smoke and incense. In an effort to remove the previous smell before the next one, fresh air was released and not always successfully, as some audience members complained of the putrid mix of the various lingering odors. (Early on both Todd Jr. and director Jack Cardiff worried that the smells used were like cheap ripoffs of then-famous perfumes, a reflection of state-of-the-art imitation.) Beyond the attempt at innovation, the reviews were expectedly negative, especially in New York, where Cardiff believed the Smell-o-Vision system used was much less effectively controlled than in Chicago. Not unexpected, the younger the viewers the more enthusiastic the response to what they whiffed. Even if Smell-o-Vision had been able to rise above its oddity status, there wasn't any commercially viable way to put the complicated "monster," as Todd Jr. called it, into wide release; as with Cinerama, high maintenance was needed to ensure mechanisms were running properly and by some accounts they sporadically malfunctioned. In a second unsuccessful try as a roadshow in 1961 and early 1962, sans smells, Scent was retitled Holiday in Spain, converted from TODD-70 to, so go the unchallenged claims, 3 panel Cinemiracle and 3 panel Cinerama as intended filler for Cinerama-equipped theatres waiting for MGM's The Wonderful World of the Brothers Grimm and How the West Was Won. This would be the first damning example of the ruinous reductio ad absurdum to save 3 panel presentation: spending money to mutilate a mediocre 70mm movie into three strips, ignore its essential gimmick and pretend that moviegoers who loved Cinerama wanted those two nettlesome seams that were never there in the first place. Neither the McVickers nor the Palace, Chicago's 3 panel venues, would show the corruption. According to writer David Coles over at in70mm.com, Todd Jr. made an arrangement with National Theatres, the rights holder of Cinemiracle and Windjammer, to convert Scent to 3 strip Cinemiracle as Holiday in Spain. Apparently Todd Jr. even paid for 5 sets of 3 strip prints, not aware at the time National Theatres was negotiating the sale of all things Cinemiracle to Cinerama. Coles claims Todd Jr. attempted to sue Cinemiracle for $10 million over the ruse. That would be a bit more than what a Daily Variety article dated 6/23/1961 reported: that Todd Jr. and stepmother Elizabeth Taylor filed a suit against Cinemiracle for $2.5 million in damages for its failure to distribute Scent as agreed by suspending the Technicolor processing of the prints. The final resolution of the suit is unknown but safely assumed: Cinemiracle and its new owner Cinerama satisfied the obligation of releasing Holiday in Spain in Cinemiracle. There remains the scent of bamboozle: the best anyone can determine is that Cinerama used a "rectified" 3 strip Cinemiracle as Cinerama for advertising purposes. In 1983, duplicating John Waters' Polyester scratch-n-sniff screamer Odorama, a cheeky tribute to Scent, Holiday in Spain was shown in several major US cities and on MTV as part of a cross-promotion with 7-11 convenience stores, at which were provided a package containing a scratch-n-sniff card and coupons for in-store concessions. (Via Blu-ray and SmileBox and other corrective technologies, Holiday in Spain was refurbished in 2014 as a Cinerama curio still minus raison d'être but looking good in spite of its tortured reincarnations.) Scent of Mystery had its splashy January 12, 1960 world premiere at Chicago's Cinestage Theatre, bought by daddy Mike Todd for the record long run of Around the World in 80 Days. The original S of M souvenir booklet included an album with Eddie Fisher singing some of the movie's music. With Denholm Elliott, Peter Lorre patting one of the buttocks of a sand-made nude, Beverly Bentley, Paul Lukas, Leo McKern, and Diana Dors wearing an ice cone halter. A Cardiff interview here. The Cinestage roadshow ran for 17 weeks.
The attempt at offering scent was not new. Back in 1939, at the New York World's Fair, Scentovision, providing several odors, was a novelty spearheaded by the Swiss professor Hans Laube, who would team up with Todd Jr. for S of M. In 1940, a single theatre in L.A. pumped the smell of crude oil through its ventilation system during Boom Town with Spencer Tracy and Clark Gable. Humorously described by the press as the "battle of the smells," the Walter Reade Organization import Behind the Great Wall opened as a Xmas, 1959 attraction in New York in AromaRama, sometimes referred to as AromaScope, with reportedly 72 smells, one month before S of M. (See AD 2 below.) There is limited life to Smell-o-Vision: Click here and here. For Terrance Malick's The New World starring Colin Farrell, the Japanese added seven gelled scents dispersed by four small fan systems in a theatre in Tokyo and one in Osaka.
ROLL OVER TO ENLARGE TITLE, SNIFF CARD, BROCHURE AND ADs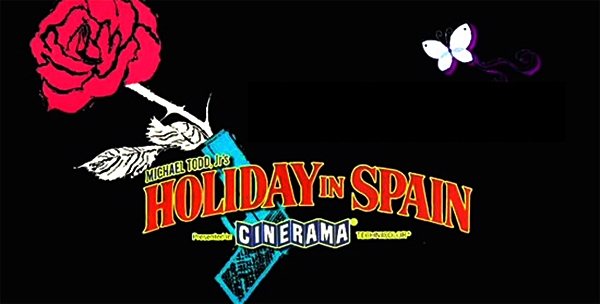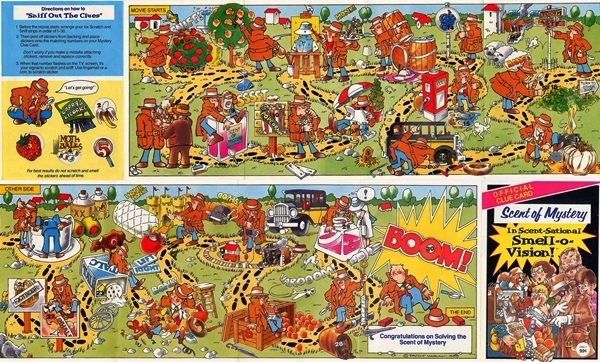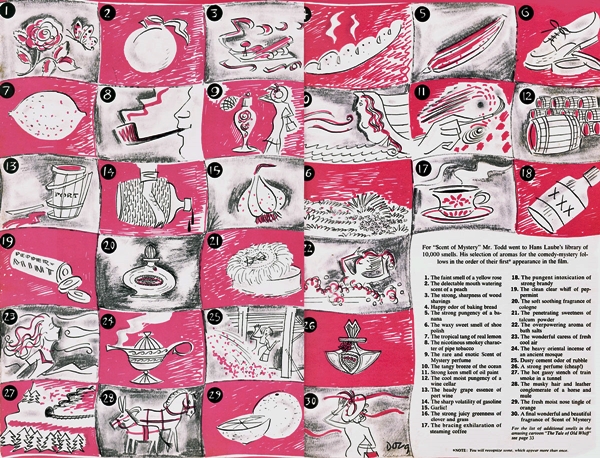 Text COPYRIGHT © 2002 RALPH BENNER (Revised 11/2018) All Rights Reserved.