LATE PERIODS

The biggest make-out song ever to come out of the movies has to be from that Muzak perfectionist Percy Faith. His rendition of the love theme from 1959's A Summer Place easily became one of that year's top selling 45s, and in immediately successive years remained a huge seller, and you'll probably find Faith's recording on an album or CD in just about every baby boomer's collection (right along with Johnny Mathis, Surrealistic Pillow, even Ferrante and Teicher). Kids of baby boomers might wish to ask their parents their memories associated with the song, and I'll bet they'll be much the same: hours aplenty in passion pits. Still in Catholic grammar school when Delmer Daves' sudzfest A Summer Place opened, and though it was a snap to get into the theatre to see it on a Saturday afternoon, we never dared tell our folks: this movie didn't only deal with at-the-time shameful out-of-wedlock pregnancy, it had the sleazy incestuousness of Sandra Dee's father and Troy Donahue's mother also shacking up together. Entirely possible that when first seeing it, I didn't appreciate Constance Ford, who plays the wife to adulterer husband Richard Egan and mother to whiny Sandra. Of course, we all know now that she's the real reason to waste time seeing it again. As trash aficionados Ed Margulies and Stephen Rebello point out in their Bad Movies We Love, under the chapter title "All This, and Troy Donahue Too," Ford is "dykey perfection" in a pre-Mommie Dearest sort of way with nonstop howlers like "Get the disinfectant and clean this bathroom and don't forget the toilet seat!" and "You can't let him think that your kisses come cheap!" And she's peerless when she says, "We had words..." Fortunately she isn't the only one to break the one-liner bad smell barriers: everyone gets a chance to blow farters and Arthur Kennedy, as Troy's boozed-up daddy, cuts the most lingering of cheese: about the attractions of the summer place called Pine Island, he says it's "a perverted Garden of Eden where the pines and the salt air seem to act as an aphrodisiac." (Looking as if he might be Jack Nicholson's father, he's certainly an authority on sickie turn-ons: he found his stepdaughter Hope Lange irresistible in Peyton Place.) Hard to phantom how Sandra Dee became a drive-in icon; as the flip side of Annette, it may have had something to do with the greasers preferring blonde bimbos who seldom graduated because they got knocked up. But there was never anything really pretty about her: as Ed and Steve remark, when the camera zoomed in on her baby fat face she looked "hissy-fit." And that voice—it could shatter Tupperware. Donahue's attractions were those suspicions about him. Watching Warner Bros. starlets Dee, Connie Stevens (in Parrish), Suzanne Pleshette (in Rome Adventure) and Diane McBain (Parrish) spreading their legs for Donahue's "beachy, blond, bland" handsomeness, you sense an insider joke.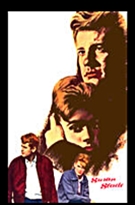 TCM's broadcast of Delmer Daves' 1961 sudzer Susan Slade could be interpreted by some to mean the programmers are getting a bit desperate, though others more congenially disposed would argue a consistency with supplying the occasional dose of 50s and 60s guilty pleasure soapers, especially the bobby soxers-in-trouble kind. Few knew this warped territory with its convoluted moralities and solutions better than Daves, who also wrote and directed the hits A Summer Place and Parrish. If Sandra Dee wasn't getting knocked up, Connie Stevens was, not only in Susan Slade but in Parrish, too. Starring as the heartthrob in all three was blondie Troy Donahue, whose success remains one of the world's unexplained mysteries. His glossified lankness towering over his female co-stars and his tantrummy yelling out of dialogue made him neither bonafide male nor good actor; at best his cover boyishness tweaked teeny twats until they stopped watching "Hawaiian Eye" and "Surfside Six." Guessing, but it's been more than forty years since I last viewed Susan Slade; about all I remembered was little Connie falling for playboy Grant Williams on an ocean liner and a scene shortly after when she's on a public blower calling a doctor to confirm her suspicions. What I had forgotten, and what gave me my first great laugh of 2009, was watching Connie and Grant smooching to the theme from A Summer Place. (Smartasses who keep track of this sort of thing say no other American ballad is responsible for more "Oops, my period's late" panic.) Everything else that followed didn't make for much comic refreshment—the family's sainthood resolution of Connie's unwedded pregnancy and the climax, reminding us that lies can be illuminated by the dangers of cigarette lighters, smack of peculiarly WASP hypocrisy. But there was one unexpected surprise—Connie's unnerving resemblance to 'Tippi' Hedren, who wouldn't show up in The Birds until two years later. Though shorter, with wider hips, Stevens has a voice which also cracks when strained, and she walks in heels similarly. And both seem to require VistaVaseline camera lens. No tearjerker can really withstand the test of long-term audience forbearance without its villains and there are none here. There's no Constance Ford or Diane McBain to play up the Midal angles, no one to enjoy hissing at. Without the bitches, goodie-goodie soaps aren't merely boring, they're useless.
Text COPYRIGHT © 2005 RALPH BENNER (Revised 2009) All Rights Reserved.