ALL FLIGHTS GROUNDED
Defying a marquee's real estate, Those Magnificent Men in Their Flying Machines, or How I Flew from London to Paris in 25 Hours and 11 Minutes is one of those all-out comedic bashes that hasn't a single star worth looking at for more time than it takes to read the title. With the exception of Red Skelton, who is a tad bit more inspired than the nearly inspired prologue "The History of Flight" that opens the picture. (He's officially listed him as Neanderthal Man, though his blissfully distorted facial reactions cover several other centuries.) Directed by Ken Annakin, under the working title Flying Crazy, this isn't another greed assault, like It's a Mad World, or the excess of stupid slapstick that is The Great Race; the crash and burns of the Edwardian-era planes elicit some laughs in the way they collapse like accordions or land on horse-driven wagons, etc., but not enough to sustain multiple takeoffs in a long 132 minutes. If Annakin isn't a finesser of satire, Ronald Searle is and his splendid credits set the film's tone more persuasively than anything else. (Why haven't credit designers been worthy of Oscar consideration?) With Stuart Whitman, Sarah Miles, James Fox, Alberto Sordi, Robert Morley, Gert Fröbe, Jean-Pierre Cassel, Irina Demick (as six different Irinas), Terry-Thomas, Benny Hill, Flora Robson, Sam Wanamaker, Gordon Jackson, Millicent Martin. Annakin's and Jack Davies' original script Oscar-nominated. (Spawned Those Daring Young Man in Their Jaunty Jalopies, also directed by Annakin, and Those Fantastic Flying Fools.) Filmed in TODD AO.
ROLL OVER IMAGE\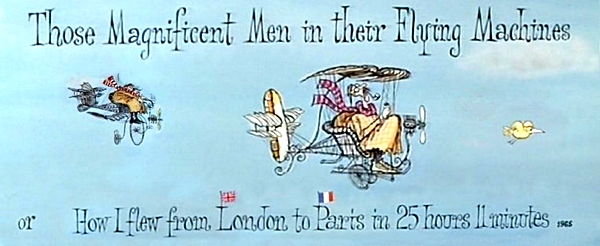 Text COPYRIGHT © 2002 RALPH BENNER All Rights Reserved.