NOT TOO BORA! BORA! BORA!
After Otto Preminger's In Harm's Way but before the trashy miniseries Pearl and Michael Bay's Pearl Harbor there was Tora! Tora! Tora!, a reserved seat attraction having no drawing power built in—the outcome a reminder every December since 1941, and though there were reasonably well-known actors playing the parts of the famous, no one in it had a marquee value to make legit the hard ticket prices. It was, for all unspoken purposes, a picture giving employment to actors (and hardly any actresses) who had been hanging out at the 20th Century Fox commissary, with its austerity menu, for too long. As study of the Japanese machinations to deliver a brazen attack on Washington via an aerial bombardment of Pearl Harbor to push the "sleeping giant" into war, the movie informs the audience the U.S. knew of its imminence but the sheer gall of the daylight aggression came as a thunderous shock; watching the American officers in their dress whites react to the Jap bombers, we might think they spent more time avoiding egg yolk and coffee stains than putting the Navy on alert. The American side of the story, comprising part one, is mundane, perfunctory and embarrassing; a considerable number of viewers, including Pauline Kael, sneaked out at half time and missed the determined Japanese assault in part two. The views of the enemy are two kinds of facials from previous Asian stereotype performances, meant to be emblematic of a cultural inscrutability we supposedly still don't understand: in formal black attire, the Imperial Naval officers are sternly disciplined for the mission, their pilots rah-rah kamikaze. Risky in its limitations yet watchable not only for its psychic drive but also for the fact famed Akira Kurosawa was original writer and director for the Japanese view, replaced three weeks into filming due to conflicts on set and emerging health issues. Most of the remaining audience likely endure the wait for the special effects, some but not all holding up to time's test. (There's one very effective moment when an American fighter plane is destroyed and its propeller cascades over the tarmac; we'd all have to wait for Pearl Harbor to show more such moments, many of them knockouts with or without CGI.) With fatigued Americans Jason Robards (who was a radioman 3rd class on board the USS Northhampton about 100 nautical miles from the harbor on the day of the attack and saw the destruction two days later), Joseph Cotton, E.G. Marshall, Wesley Addy, Martin Balsam, George Macready, Richard Anderson, Edward Andrews, a bloated Neville Brand and Leon Ames; with Soh Yamamura, Takahiro Tamura, Eijiro Tono, Tatsuya Mihashi, Shogo Shimada and Koreya Senda as the inscrutables. A bit of the footage of the harbor bombing shows up in Pearl. American side directed by Richard Fleischer, Japanese side credited to Toshio Masuda and Kinji Fukasaku. Filmed in Panavision, with 70mm blowup. (Opening 10/7/1970 at the Palace, running 16 weeks.)
Oscar win for best special effects. Nominated for cinematography, art direction/set decoration, sound, film editing.
ROLL OVER IMAGE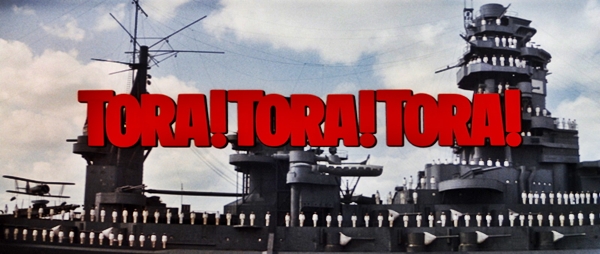 Text COPYRIGHT © 2002 RALPH BENNER (Revised 12/2017) All Rights Reserved.