BORE AND PEACE
War and Peace is the kind of novel you slog through for weeks, probably months, and likely never finish. Concerned with audience attention and time constraints, about the best a moviemaker can do is get to the most salient points and hope the cast and the money spent for the supporting grandeur will gloss over all that's missing. Surely what King Vidor hoped for when he made his version in 1956 in Italy, with Dino De Laurentiis producing. The script is the selected "highlights" of a masterpiece, but ploughing the source, you have a lot of sympathy; a director really does need the length of a miniseries* to do justice to the episodic sprawl, the endless subplots. Vidor's luggy epic has more the feel of a Dickensian Gone with the Wind than Tolstoy; the truncation creates vitual chapter headings that become stilted, melodramatic flashes. The international cast has its chuckles: Vittorio Gassman's sister is Anita Ekberg, the only performer who—though dubbed, some say by Nikki Van der Zyl, others believe the voice might be Eleanor Parker or Maria Schell—is amusingly alive, bitchy and very sorely missed when not on. (Okay, the boys over at the Harvard Lampoon got it right: "Ekberg has breasted the tide of criticism in regard to her triumphant inability to act by spreading herself over the CinemaScope screen like a great fleshy smörgåsbord, proving once and for all that delicacy can be as un-Swedish as it is un-American." All you can say is, thank the Gods of buffet for that.) No one would mistake Henry Fonda's Pierre as Russian, and in that ridiculous wig, being miscast is grossly accentuated, and it's impossible to believe he could ever have married Ekberg, though it's a lot of fun watching him get berated by her and then attempt to throw a table at her. Audrey Hepburn isn't a wrong choice for Natasha—she's closer to Tolstoy than any other performer. Yet, despite her character's lineage and free-spiritedness, Hepburn's waify gamine qualities emerge and her exuberance is often tiresome. (Noël Coward said of the novel, "Although all the characters are brilliantly drawn they are, most of them, bloody bores, particularly the hero and heroine, Pierre and Natasha, whom I personally find absolutely idiotic." He must have had a deep laugh at the movie's ending.) There's one truly "cinematic" sequence—Napoleon's retreat from Russia, during which Fonda has his second winning moment by saving a dog. Some lovely sequences: Fonda's early morning "satisfaction" duel, with the sun rising; Hepburn dancing in that ornate palace. With Mel Ferrer, Jeremy Brett, Herbert Lom as Napoleon, May Britt, John Mills, and, doing his usual audience-killer stuff, Oscar Homolka. Battle scenes directed by Mario Soldati; second unit camera work by Aldo Tonti. Oscar nominations: best director, color cinematography (Jack Cardiff), color costume design. Filmed in VistaVision.
Many consider Sergei Bondarchuk's purported $100,000,000 4 years-in-the-making War and Peace, first and partially released in Russia in 1966, to be the definitive movie version. Opening in America in 1968, it was 373 minutes long, badly dubbed, shown only in major cities, and, because of détente, won the Oscar, Golden Globe, National Board of Review and N.Y. Film Critics Circle honors as Best Foreign Film. Oscar nom for art/set direction. Cast said to have exceeded 120,000. There are several other cuts out there: a 403 minute version, a 507 minute job, and a recent widescreen DVD coming in at 431 minutes. Filmed in Sovscope 70.
Chicago opted out of any variation of roadshow for the Vidor version, settling in the State Lake with the popular prices/continuous performances strategy and then moving to the Esquire. The Russian version of War and Peace opened in New York as a roadshow with a convoluted viewing schedule. See Ad2. Only for a while did audiences return for the 2nd part. In Chicago, at the Esquire, the decision was made to show Part One for a week, run Part Two the second week. See Ad3.
*Thus far, the BBC's 1972-73 War and Peace, the equivalent of video Valerian running for twenty episodes (and on DVD 754 minutes), starring Anthony Hopkins as Pierre, directed by John Davies, and adapted by Jack I, Claudius Pullman, is considered the most complete version to date and available on youtube.
ROLL OVER IMAGE / ADS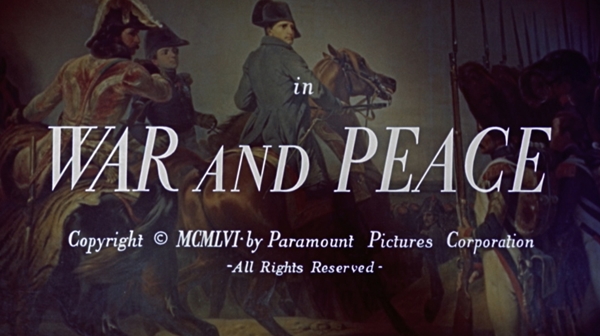 Text COPYRIGHT © 2001 RALPH BENNER Revised 9/2015 All Rights Reserved.