GETTING THE LAST LAUGH
Joseph L. Mankiewicz's Cleopatra, the most maligned Hollywood epic ever made, may also be the most undeservingly scorned. Coming in at a purported cost of $44 million, having taken five long years from conception to completion, generating as salacious and negative a press as could be imagined—so sucked in by le scandale of Liz & Dick that even the Vatican and Congress publicly addressed it (the equivalent of the tumult of Bill & Monica)—there was no way then that the spectacle could live up to itself. And when Elizabeth Taylor first appears, rolled out from a carpet, you've got to concede to Stanley Kauffmann, who observed that "she needs do no more than walk around the throne room to turn Alexandria into Beverly Hills." Trapped by hodgepodge dialogue, not unlike how Claudette Colbert was in the 1934 rendition, Liz utters lines to Rex Harrison's Caesar like, "We've gotten off to a bad start, haven't we? I've done nothing but rub you the wrong way." The critics' handy knives merrily slashed away and what might have been more reasonably appreciated became bloody corpse. (In the second half, she has to bray out the then-popular assessment of her image: to Burton, Octavian "has made of me unmistakably your whore.") Only the N.Y. Times' Bosley Crowther held out, alone against the assassins, hopelessly trying to bring a saner evaluation, and when he found out that 20th Century Fox cut an hour out of its 246 minute roadshow presentation, he blew a noisy gasket and, in a surprise, the cuts were restored. (But the 180 minute slaughter would become the "popular prices" release.) Though the 1962 Mutiny on the Bounty, Michael Cimino's 1980 Heaven's Gate, and 1995's Waterworld were to receive hugely damaging pre-release publicity, no other epic in Hollywood has ever been more written about: Cleopatra became a social phenomenon—the whole world turned to the press everyday to see what new outrages Liz was supposedly up to, what expensive delays had occurred, whose executive head was on the Fox chopping block. (Best books on the subject are the Jack Brodsky & Nathan Weiss The Cleopatra Papers and the Walter Wanger and Joe Hyams My Life with Cleopatra.) All of this became part and parcel of our initial response: if Liz and Burton were so openly flaunting the hots for each other, the movie was made boring when audiences, wanting to see the same kind of lust on screen, realized their screen kisses rank among the least impassioned in movie history. Producer Wanger, who lost control of the movie, always wanted to make a serious biography of Cleopatra, and he had Liz in mind from the start. After all, she was the screen's top celebrity at the time, and she was red hot box office—though less for her acting than for her Debbie-Eddie-Liz biz. Had it not been for the chaotic scripting—while filming went on during the day, furious writing and re-writes went on through the night—she might have been able to pull it off. Mankiewicz's miscalculation was in writing down for Liz, giving her the vernacular of Hollywood as opposed to pseudo Shaw for Harrison and low fat Shakespearesque for Burton. Two of the more majestic voices in entertainment, they swamped her limited range. You wonder how it came to be that Mankiewicz didn't hear what was obviously so injurious a liability. He did; he was under such immense pressure to complete the movie that he accepted what he likely recognized as L.A. hoot and let it go. Others have pointed out that Mankiewicz came out of the school of Hollywoodspeak, so what he wrote for her seemed customarily "with it." (And many critics never bothered to note that Mankiewicz eviscerated Shakespeare in the 1953 eye-sore Julius Caesar.) Her performance sometimes works: when she's teasing, purring with kittenish charms, she's as fuckable as any queen; when she's on the throne issuing orders—to Burton's Antony she says, "You come before me a suppliant"—or ordering her food tester Lotus to "taste (the poison) again." she's no Glenda Jackson or Meryl Streep but she's persuasive. Smilingly, that is, because when she's awful, she's a guilty pleasure: half naked, she shrills at Caesar that she will not be told where she can or can not go. Just when you think she's in way over her head, she'll pull off a transforming moment, such as her passion for a "one world one people" advocacy at Alexander's tomb. She has moments of looking so gorgeous that you might download in your pants: with deep décolletage, she's eye-popping in a yellow Irene Sharaff deluxer and wearing a crown that looks like a bejeweled Esther Williams swimming cap. She's equally desirable in emerald green (with gold serpents on the biceps and one crawling down her black wig and one slithering up her crotch to support an ankh) when she tells Antony that "love can stab the heart." She wears her tracheotomy scar with wondrous pride. And upon the conclusion of the vulgar panoply of her entrance into Rome, this Cleo dares to wink at her master. Because of Mankiewicz's penchant for "wit" and levity as ambush, his conception of Caesar is successful: Harrison plays him disarmingly; audiences back in 1963 didn't expect to find themselves laughing with so historic a figure—instead of at, as with Liz, or, say, Peter Ustinov in Quo Vadis or Jay Robinson in The Robe and Demetrius and the Gladiators. Harrison's also generous: in the big motivating scene at Alexander's tomb, his imperial calm and graciousness are beneficial to her. Surprisingly, and disappointing to initial audiences, she shows a deeper love for Harrison than Dick. And no male actor in any epic wears Roman royal purple more impressively; given Caesar's sexual tastes, you can believe the comment made of him: "He was every woman's man and every man's woman." Burton's Antony is factual and fair—a drunken warrior, as lustfully mad for all of the Roman Empire as he is for Cleopatra. As actor, Burton in the second half is often scaling to the upper balconies and exhausts himself, dwarfing his quieter moments. Roddy McDowall's Octavian, played with bleached blond malevolence, is unexpectedly a top adversary. Another plus is Cleopatra's lush look. The production's chief designer is John De Cuir, who, along with nine art directors and set decorators, refused to fudge in making an all-out beauty, though the sharp eye will detect some of the flowers and greenery aren't matching the palatial digs. (And it's a waste of memorabilia that Cleo's $277,000 barge and the movable sphinx didn't end up at one of Disney's theme parks.) Filmed months after principle photography and only four months before the world premiere, the opening sequence—Caesar's defeat of Pompey at Pharsalia—is the most awesome of the epic's grandeur. No matter the fuss concerning the making of the movie and the blame and lawsuits that followed, the one amazing thing to come out of the expensive hoopla is that Cleopatra doesn't much fabricate or carelessly distort basic fact. Mankiewicz hasn't received credit for resisting the standard Hollywood trashing of history for dramatic purposes. The use of the asp in the queen's suicide the one major exception; he determined that since he couldn't prove through his limited research just how she manage to end her life, he felt that the myth was narratively stronger. A lot is missing in the roadshow release and on a Dick Cavett show years back, Mankiewicz, being joshed with the anagram "tale o crap," said that he'd liked to have one day presented the movie as a miniseries because he had originally planned a three hour Caesar & Cleo and a three hour Marc & Cleo. (Darryl F. Zanuck put the kibosh on that, as he was the final editor. Executioner is more like it.According to the documentary Cleopatra: The Film That Changed Hollywood, Fox is attempting to locat e missing footage to restore the epic as intended and there's an update about it in the Blu-ray release.) Liz gets the last laugh: though she signed a highly publicized million dollar contract, with a bonanza of perks and stipulations, by the time the movie had finished its theatrical runs and was sold to television, she had received in excess of seven and a half million, and her estate still collects residuals. Great salve for all those bad reviews. Filmed in TODD AO.
ROLL OVER IMAGES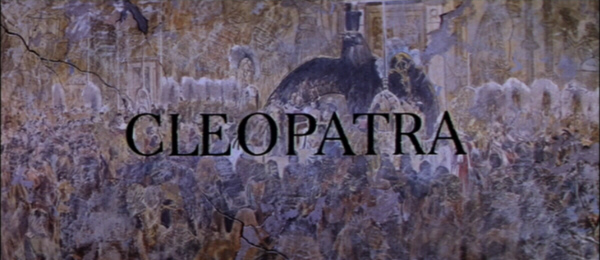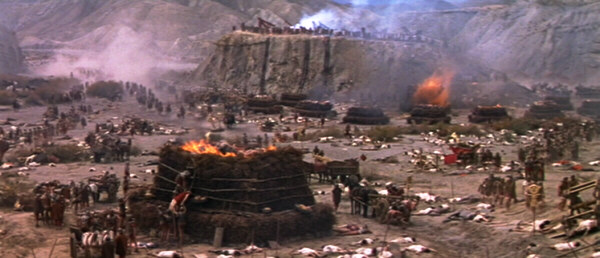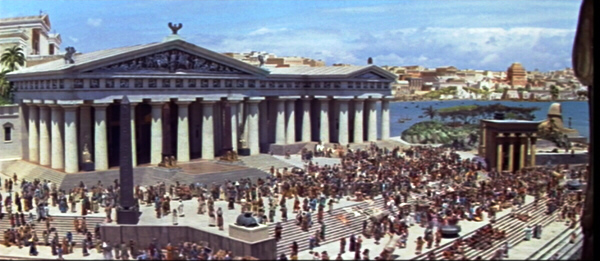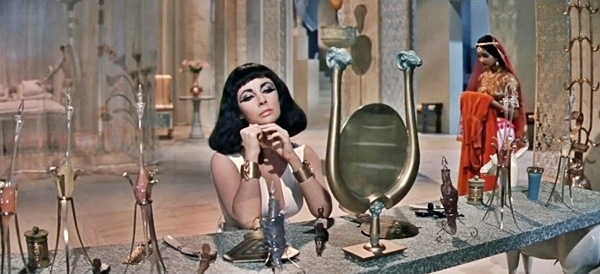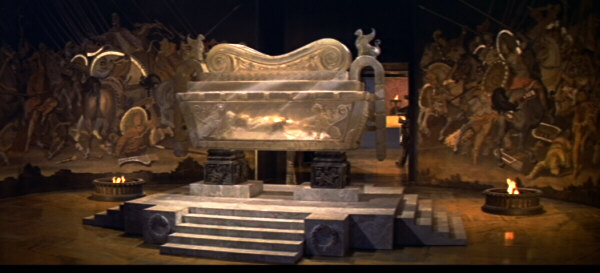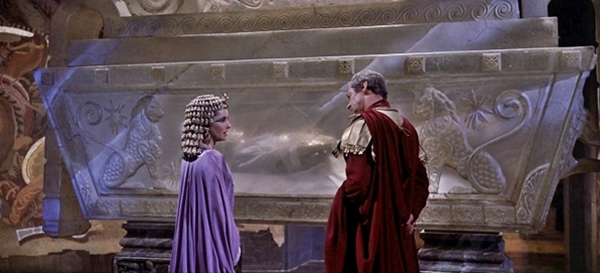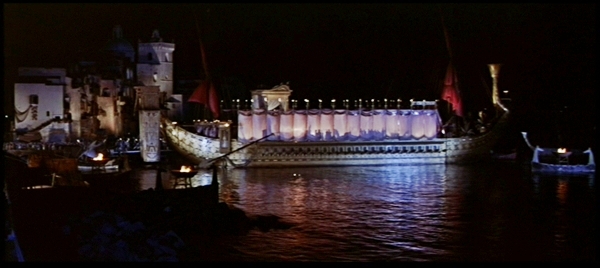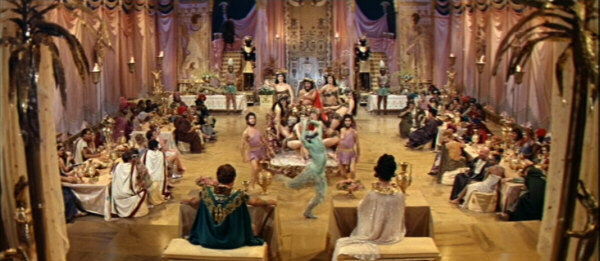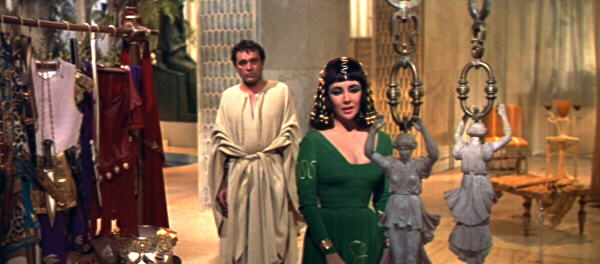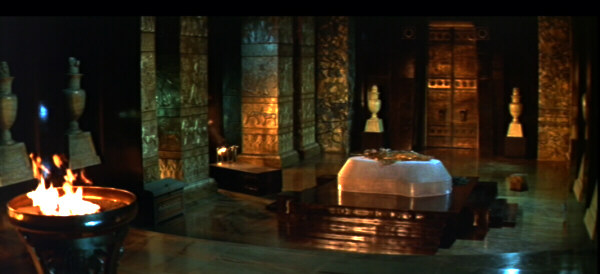 For all stills: http://movie-screencaps.com/cleopatra-1963/
Text COPYRIGHT © 2000 RALPH BENNER Revised 6/2012 All Rights Reserved.