LA SEDATA VITA
Supposedly so shocking, so daring in theme that, beyond the gimmick, it was decided to sell La Dolce Vita as an "adults only" roadshow in the more cosmopolitan American cities. And it didn't do half bad as one, either. (In Chicago, it followed Ben-Hur at the famed Michael Todd Theatre.) In black and white, the picture wasn't prestige stag, or what had been hoped to be; it was Federico Fellini leasurely gasping at the depravity of his modern Rome, showing us sinners and lechers prefiguring Silvio Berlusconi who are deserving of Hell because they're aimless, alienated, bored. Hailed by many as a searing look at what was the beginning of the Paparatszi culture, Fellini is preaching disguised hypocrisy as "truths"—he was then and remained throughout his years just as much a languished voyeur as the smoking and drinking parasites he exploited. For what seemed like years all people talked about was Anita Ekberg in the fountain and the "orgy" with its prancers and dancers gyrating to Perez Prado's "Patricia." Actually, the talk stopped when most of us as teens got to see the picture at the drive-in and were disappointed because the hype in ads—"uncut...uncensored...now for all to see...the nights, the drunken revels, the sins and the sinners, the perverted decadence of the jet set rich"—produced expectation never realized on the screen. There was more action going on at A Summer Place than Fellini's place. Ekberg's boobarama notoriety aside, it's Marcello Mastroianni who benefited most—he became an international superstar. (Today's audiences may laugh apprehensively at his character's face-slapping, feather-dropping misogyny.) The kindest thing to be said is that, after Juliet of the Spirits, Satyricon, Fellini's Roma, Amarcord and Fellini's Casanova, the movie looks blessedly sedate; compared to L'Avventura, La Notte, Last Year at Marienbad and Fellini's 8 ½, it may be the least tedious "masterpiece." Despite getting the Bible-belters and the Catholic Church in a tiz, La Dolce Vita earned Oscar nominations for best director, original screenplay, art direction and won for black and white costume design. (Otello Martelli wasn't nominated for the one award deserved—best black and white cinematography; that went to The Hustler.) TCM occasionally shows it, with a TV-14 rating. Winner of the Grand Prize at the Cannes Film Festival. With Anouk Aimée (driving somnambulately a Cadillac convertible), Lex Barker, Nadia Gray. Filmed in TotalScope.
ROLL OVER IMAGE & POSTER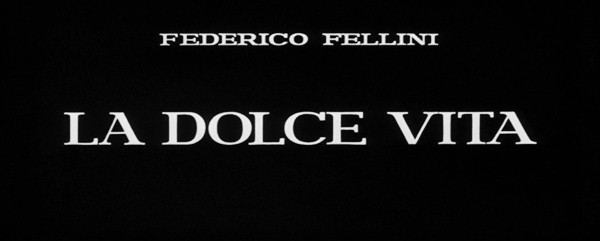 Text COPYRIGHT © 2001 Revised 4/2011 RALPH BENNER All Rights Reserved.