WHY ITS LONGEVITY?
Still reeling from Cleopatra, 20th Century Fox discovered, apparently by accident, it held the rights to The Sound of Music and, desperate for cash, ordered up filming. The musical's overwhelming success is decried as an example of how indiscriminate movie tastes often are. There's something a little deeper about how American adults initially responded: our involvement in Vietnam was heating up and, speaking from personal experience in entering the Army at the time, many inductees feared being shipped out to conflict only to be brought back home in a box. The Sound of Music was a mass comfort session; among the thousands of letters director Robert Wise would receive, one of them came from a California psychiatrist: "I'm worried—it's cheaper than therapy." Except for blockheads, most of us, including the cast and Wise, knew the rot of its supercalifragilistic family values. But the lovely imagery of goodness got to us; in spite of everything shouting otherwise, we held onto what we knew wasn't. (Even when, in repeated viewings, we mocked it by singing along with Maria and the brats long before the sing-along version.) Probably key to its lasting success is audiences believe the musical's fun is in its obvious manipulation. Discounting the Jesus epics and agendized documentaries, it's been called the most engineered entertainment ever made. That would, however, grant Wise a vision he disavowed: the movie had numerous production problems and Christopher Plummer exhibited frequent contempt by overeating and drinking during filming. Back at Fox some executives reportedly gagged when seeing the rushes: the anti-sweetner compromises having failed, every i of inanity, every t in trite and every exclamation of cute and heart-tugging remained emphatic. Worries, too, over Plummer's delicious mockster essence. What's clear is the cavity inducer would never have worked quite the way it did back in '65, or work now or in the future, without his effete camp: when Captain von Georg, standing prissily, looking foppishly sinister, pushes open his mansion's ballroom doors to get his first view of Maria Andrews, and then proceeds to use a whistle to summon his devilish angels, the depraved movie soul given birth the year before as Commodus in The Fall of the Roman Empire now expertly syllabicates words like "governess," "today" and "abbey" to the wicked max. A typical Hollywood injustice: Mother Superior Peggy Wood, a ringer for Barbara Bush, got an Oscar nom over Eleanor Parker's bull's eye conniver: no one will ever put more intent into the line, "Darling, haven't you ever heard of a delightful little thing called boarding school?" Pancaked as an Austrian kabuki, Parker's use of every tired trick we've always hated watching in her other movies is what we end up loving about her here. (A career high, yet such are the perils of role choices that just a year later, in a doubleheader, she'd get trashed in The Oscar and in a mere thirty minutes slide to an all-time low in An American Dream, aka See You in Hell, Darling.) The kids strain patience and even the unrepentant sapsuckers have been known to be amenable to booking tear-gushing Angela Cartwright on the next Auschwitz express. If you've been to Salzburg you've found yourself startled by how the the movie about equals Mozart as tourist money trap. There are SoM bus trips, dolls, candies, on and on. After absorbing the city's history, the interplay is a happy marriage: Amadeus was also addicted to sweets. Filmed in TODD AO. (Opening 3/17/1965 at the Michael Todd, running 96 weeks.)
Oscar winss: best film, director, sound, musical score adapted, film editing. Oscars noms: best actress, supporting actress, color cinematography, color costumes, color art direction/set decoration.
ROLL OVER IMAGE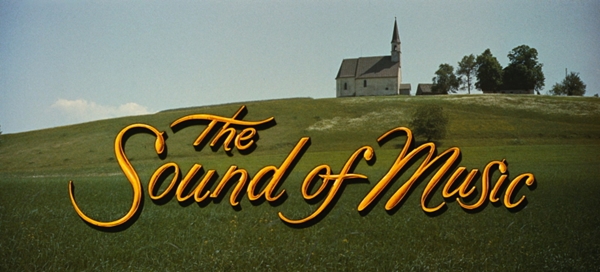 Text COPYRIGHT © 2000 RALPH BENNER All Rights Reserved.