MURDER IN PARADISE
Which of Joshua Logan's bummers is the worst—Mister Roberts, Bus Stop, South Pacific, Camelot or Paint Your Wagon? Probably South Pacific; while delivering a smash on Broadway with Mary Martin, he's turned paradise into the equivalent of Bikini island on screen. For starters, Rosanno Brazzi, never having any trouble playing what Ed Margulies and Stephen Rebello call a "Euro-smoothie," has the misfortune of romancing zitzi Mitzi Gaynor with his sleazy suave hots and it's the movie's sickest joke to expect us to believe he wouldn't turn into a misogynist. Might have been helpful for him to have learned from Stewart Granger how to wear Safari jackets; considering the banquet of sea food on display, he could have toned up a bit or at least asked the costumer to reduce the slack in his short sleeves. Just about the entire cast seems designed to murder musicals. Imagine paying roadshow prices to watch insufferabe Gaynor wash the audience right out of her hair, wonder why John Kerr's fate has zero impact and fight off Ray Walston in coconut bra and Juanita Hall's infectious spread of "Happy Talk" regurgitation. But things get worse: not only has the score been demolished by inept staging, Logan and cinematographer Leon Shamroy came up with the "beauty enhancing" idea of color-tinting their TODD AO Pacific heaven. In not one sequence are the effects anything less than hellish: when Brazzi is mouthing "Some Enchanted Evening," the encircling yellowish atmosphere suggests the arrival of radiation smog from the nearby atomic bomb testing sites. Winner of the Harvard Lampoon's Worst Movie of 1958. Original runningtime: 171 minutes. (Opening 3/26/1958 at the McVickers, running 56 weeks.)
Oscar for best sound; nominations for color photography, scoring of musical picture.
The 2001 Glenn Close TV version is better acted, with the exception of Lori Tan Chinn as "Bloody Mary," and, I think, better sung. Close knows how to deliver show tunes and seductive Rade Sherbedgia spares us the Giorgio Tozzi scaling of "Some Enchanted Evening." Harry Connick Jr. is no actor, and he has an uncanny resemblance to John Kerr, but all's forgiven when he croons ala Frankie. A more recent Broadway version, aired by PBS, is commented on here.
ROLL OVER IMAGE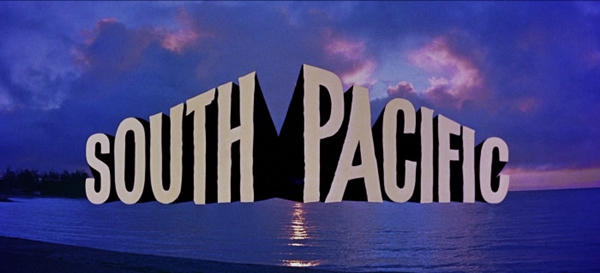 Text COPYRIGHT © 2001 RALPH BENNER (Revised 8/2015) All Rights Reserved.