ZITVISION
What was it about Joshua Logan and closeups? He must have believed CinemaScope, TODD-AO and Panavision were meant to climb on top of the faces of his stars and expose every pore and blemish. (Can anyone legitimately claim Marilyn looked ravishing in Bus Stop?) Forgot why I didn't much care for Camelot back in 1967; re-viewing it via a very decent Blu-ray, the misgivings came back all too quickly: Richard Harris, who really gets into his role as King Arthur and does a commendable job with Lerner & Loewe's "verbiage with pitch," has so many closeups that I had to turn away for relief. Logan's incessant zooming in on kissers dislodges us from the fairytale world, robbing us of the luxury of gazing at John Truscott's "designer" look for the musical. But the Los Angeles Times' Charles Champlin is correct in stating that, though this movie won Oscars for art direction and costumes, "this is a film whose principle disappointments were visual." Probably due to the lack of congenial cohesion: The first version of the song "Camelot" is set in a denuded frostiness that hasn't a flash of life—a petrified forest with no magic. The king's lumbered quarters are junk warehouses with antlers sprouting from the walls and the great hall is a Zeffirelli dream of Faustian proportions stripped of color. (Lancelot's horse is just about the only vital contrast in the entire picture.) Merlyn's sylvan hideaway, with squirrels and foxes and an owl, throws us back to Brigadoon. Truscott's attire is pretty drab yet sticking out are some of the ladies' headgear that suggest spreading vaginas waiting for entry. (Possible that we would have noticed much more the Freudian lips if Lance hadn't performed a near-kissing miracle to save a blooded-up Bruce after a joust.) Vanessa Redgrave has the acting chops and extrovert sensuality that Julie Andrews lacks, and Franco Nero's Lancelot is all in all acceptable. The musical highlight is "If Ever I Would Leave You," lip-synched superbly by Nero who, dubbed by Gene Merlino doing both Howard Keel and Harve Presnell, convinces us that he's singing his heart out to Vanessa. (Almost fifty years later they finally married.) The song is visually used to capsulize the forbidden romance between Guenevere and Lancelot, with luminous Vanessa tiptoeing late-night through the passages of the castle to her lover's lair, and by my measure it's one of the few good numbers Logan ever spliced together. His first movie musical South Pacific and his last one Paint Your Wagon, with those singing sensations Lee Marvin, Clint Eastwood and Jean Seberg, are his worst bummers and easy to hate. Camelot is less odious; despite our bouts with the inflated studio-recorded chorus rarely used to get the extras' mouths moving, despite the chills produced by the sets and the close range facial binges, the principals make us appreciate that the Broadway originals didn't reprise their roles, otherwise we'd be inundated with and swatting away Richard Burton's pockmarks and plugging our ears to reduce Andrews' acute immaculateness.
ROLL OVER IMAGE / POSTER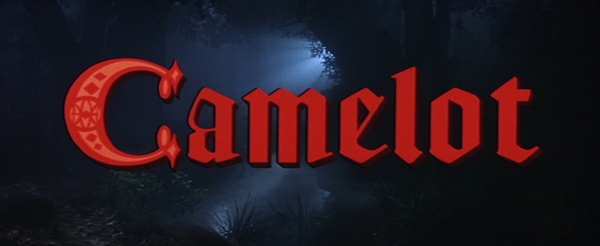 Text COPYRIGHT © 2001 RALPH BENNER (Revised 11/2014) All Rights Reserved.